Hankook Ventus V12 Evo K110 Tyres Available in POOLE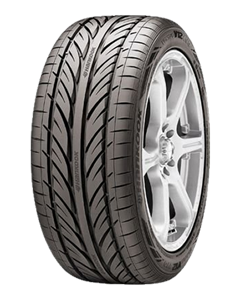 Ventus V12 Evo K110
Ventus V12 evo tyre combines performance and technology for the ultimate highway driving experience.
Hankook Tyre America Corp. has created an ultra high performance tyre that delivers unrivaled comfort during high speed driving - the Ventus V12 evo K110. The tyre continues Hankook's commitment to bring daily drivers the smoothest and safest ride available.
The Ventus V12 evo K110 utilizes the latest technology to maximize steering response and improve high-speed stability while the tyre's water drainage system ensures safety on wet surfaces.

The K110 is a Z-rated street tyre with the proven Ventus Ultra-High Performance tread compound, and comes in 25/30/35/40/45/50 series. The directional tread of the tyre gives a sophisticated look and improves traction while preventing against hydroplaning.
Other benefits include:
Solid center tracking rib - enhances braking performance and ensures optimal road contact pressure and controlled steering response at high speeds
3D effect on block edge - evenly distributes road surface contact for optimal handling and braking
HPSR (High Tg Polymer & Specific Resin) Compound - ensures outstanding traction and braking on wet roads
High-density nylon reinforcement belt - allows even distribution of ground contact pressure during cornering
Y-shape channels, linear grooves and MTR (Multiple Tread Radius)
Effectively sweeps water away from the tyre